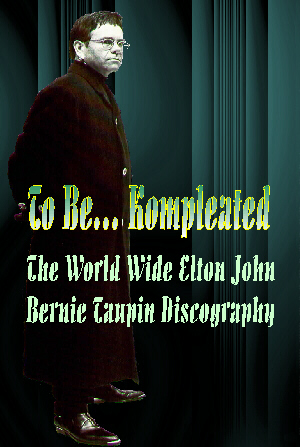 System requirements include:
-Personal or Multimedia computer with a 486 or higher processor.
-Microsoft Windows ® 95/98 operating system or Microsoft Windows NT ®.
- 10 meg of available hard-disk space.
- Shareware version has only 6,000 entries and will not print reports.
Currently, the database has over 31,000 individual entries. This started out as a little project to catalogue my collection in 1991, to what the database is today, I never would have thought that it would get so large. I'm sure there are still thousands of EJ/BT items out there that are not cataloged yet.
The full version comes on CD-ROM featuring the full version of "To Be...Kompleated" The World-Wide Elton John/Bernie Taupin Discography. It has full lookup, search, sort and print capabilities (4 different reports). A must if you are looking to see what is out in the collectable market of today.
---
Download the electronic version l10johnsw.zip

Download is appoximately .5 meg, so budget your time according to the type of hardware you have.
---
E-Mail to: (Skylnpgn@juno.com)
Last updated - 28 December 2001
All Contents Copyright © 1996, 2002
All Rights Reserved